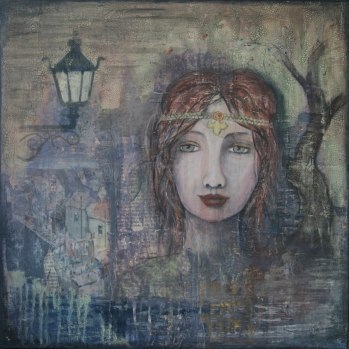 This painting has been hanging in my kitchen for several weeks, before finishing it the other day. The painting has evolved without a plan nor a goal. I love the process of adding and taking away as it feels right. To find the flow and just go with it is great. When I get stuck I hang my unfinished paintings in the kitchen. There they stay until I know what to do next.
Here I have used acrylic paint, paper, coloured pencils, glimmer mist and crackle paint. The texture is great. Her hair has changed colour along the way. She has had both blond and dark hair and ended up kind of red☺
They different objects in the painting kind of appear in my mind when I am zooming out, looking at the painting from a distance. When I finish it I check what some of the objects symbolizes. Usually very interesting!!
The lantern symbolizes light, such as intelligence, truth, and illumination. In Hinduism and Buddhism a lamp is a symbol of life. It can also be a symbol of clarity coming through and life revealing precious gifts to us. The tree has meant many things to many people throughout history, but the theme that runs through them all is humanity's psycho-spiritual journey from ignorance to consciousness. With roots that reach deep into the earth, arms that reach up to heaven, and trunks that connect the space in between.