I am in a real flow at the moment. I have heaps of paintings going on at the same time (as usual). I love it! Music is on high, moving from one canvas to the other, adding layers after layer. The studio is a mess! I am amazed that I can find what I am looking for while working... but I let the mess be a part of the creative process. Sometimes I pick up the "wrong" colour, splashes from one painting ends up on another canvas or I can't find what I am looking for so I grab something else instead. It is great fun to let that be a part of the process. It is amazing what appears when you let the painting develop kind of by itself...
I hope that I will be able to show some finished stuff soon.
Have a great day!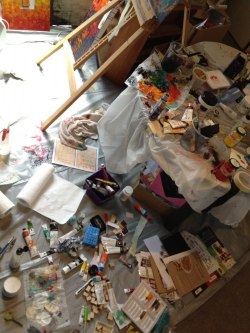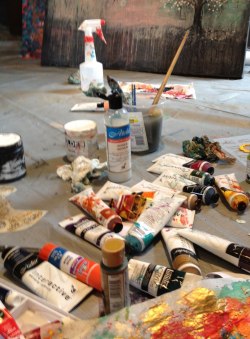 jio lucky draw • November 2, 2019 at 9:31:19 AM

thank you so much for sharing this awesome Blog

Janet • October 13, 2012 at 1:59:30 PM

Aww I Love your mess! It is very comforting knowing I am not the only one! Thanks for sharing it!