The last 5 weeks I have been very brave and I have been focusing on trusting my intuition even more. I have been busy working with an online class by Flora Bowley, Bloom True. It has been great fun and a challenge at the same time. Flora is a lovely teacher and coach and she teaches her process and philosophy straight from her heart. She presents an approach to painting that celebrates intuition, connects body, mind and spirit and allows unique and expressive paintings to emerge naturally and authentically. Hey, do I looove that, or what!!
These five weeks have been very fun and intense and there has been a lot of frustration at times. Many nightly hours when the kids have been asleep. I have got stuck several times and I have also experienced some frustrating trying to finish some of my old paintings in parallell. But by letting go and being brave and trusting my intuition I have today finished one of the 10 paintings I have on going and I am very happy. In the beginning of the course I was a bit afraid that my paintings would be "Flora look a likes" but I really feel that my voice has come through in this process.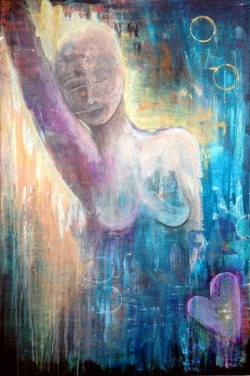 I will post more pictures later when I have time to make the last finishing touches. This weekend I am going to Auckland to deliver 3 paintings to a gallery. Great fun. I will also visit a new friend that I met thruogh the e-course. Isn't that cool! I met a friend through the net☺
Be brave and have fun!
Nevis marriner

• September 23, 2013 at 6:46:08 AM

Hi Jenny, looks like you have been really busy. I'm loving all your art. Look forward to catching up with you all over the summer holidays down at the beach.
Take care
Necia

Me

• October 25, 2012 at 11:12:54 PM

Just keep on creating!

Kelly Diemond • October 17, 2012 at 3:12:47 PM

I love your work Jenny! So glad to be a part of the Bloom True course with you, thanks for sharing your link. I can't wait to see the rest of your paintings completed!