One of the promps for The Fall Fearless and Fly #5 challenge was to create a journal page based on "What lessons I have learnt from people I admire".
One person that I really admire is Deepak Chopra. The below journal page includes some of his wisdom. The way he describes consciousness really fascinates me.
" The simplest definition of consciousness is awareness. The two are synonymous. Consciousness is the potential for all creation. The more consciousness you have the more potential you have to create."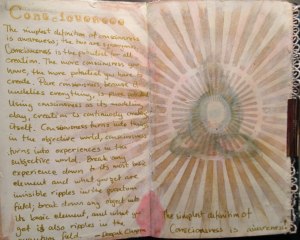 There are many famous people that I admire and that have taught me lessons... but I do have 3 people very close to me that I should listen to more and learn from. They still have a very uncomplicated relation and dialogue with their imagination and intuition and I want to encourage them to keep that!
Today me and my 6 year old daughter had a "Creative Wander". We packed our Art Journals, some coloured pencils and some watercolour. We wandered around the neighbourhood and stopped in different places to draw and paint in our journals. My daughter was leading us and I listened and followed her to inspire me. It is very exciting to let the kids lead and see what happens. I am not that good at it but I have decided that I will listen more and let their imagination and creativity teach me. I am really looking forward to our next Creative Wander!!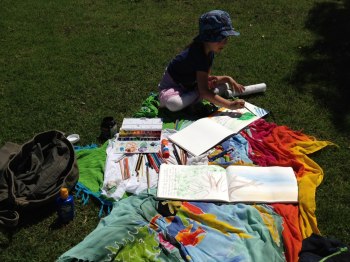 marja • January 21, 2013 at 6:27:14 PM

This is so gorgeous. Beautiful art work.
lovely greet
Marja

Jenny Grant

• January 21, 2013 at 12:20:55 PM

Thank you all for you beautiful words! Gena, yes the cards are for sale! Let me know what motifs you would like!

Marja • January 16, 2013 at 3:21:18 PM

Hi Jenny, I saw your paintings and the interview by Jennybell. Marelous words and the hit me in my heart. Also your paintings are beautiful. So I found your blog and I will follow you. Thanks .
lovely greet Marja

Carin • January 16, 2013 at 12:33:09 PM

I just found you through Jenniebellie (a fellow expat Swedish artist- how wonderful!). Your art is gorgeous, and I just love the ide of the creative wander! I may have to do that with my two come spring. My daughter especially would love it!

Gena

• January 9, 2013 at 10:19:23 PM

Fantastic idea Jenny! We'll bike our creative wander with our stuffed backpacks! Will post/share. Really enjoy reading yr blog. Enjoyed seeing outdoor show of your beautiful work. Can I buy cards of those beautiful ladies?

Thank you Gena for your lovely comment! Yes, the cards are for sale! Let me know what motifs and to what country you would like them sent and I will send you a quote!

Cheers Jenny

February 3, 2013 at 11:45:03 AM

Marcia • December 22, 2012 at 12:35:34 AM

very thoughtful and expressive! How fun to art journal with your daughter. I can't wait until mine is old enough to do the same!

Jan-Erik

• December 11, 2012 at 8:23:23 AM

Kids are the best and playing with them is FUN. Who is Deepak?
Good paintings!

Carolyn Dube • December 10, 2012 at 4:44:44 PM

Your creative wander is magical! There couldn't be a better way to spend an afternoon! Deepak is an amazing teacher and thinker - your journal page to him is wonderful!! So glad you shared this with Fall Fearless and Fly!

Gloria J Zucaro • December 9, 2012 at 4:10:22 PM

Love your idea of following a child's lead. They are still closer to their "origins"! Great subtle lotus painting.

Jessica Sporn • December 9, 2012 at 3:20:22 PM

Jenny - your page is beautiful. I have been doing DC's meditation challenges and find him inspiring too! And your children -- yes -- if we can be guided by our children, we will learn so much.