"The day I broke up with normal"
What great fun I have had painting this piece! The board started out as the display background at an art market that I attended in December. Then it was a place to get rid of left over paint. My daughter painted a layer and slowly, slowly the background was developing through many layers over several months. The face merged in the layers... just hidden behind the black hat... the hat slowly became more and more hidden again... I think I could have continued for ever... but I decided to showcase her in a local gallery and had to prepare her for that.
With parts of the following quote as the title she will be delivered to The Refinery Gallery in Paeroa on Sunday!
"The day I broke up with normal was the first day of my magical life"
by Jeremy Chin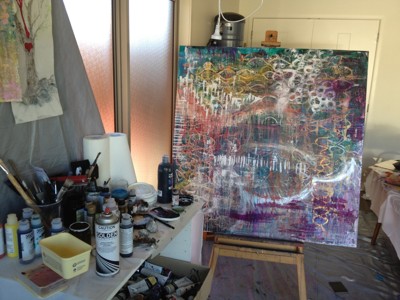 Kim Smith • June 20, 2013 at 2:37:25 AM

This painting is gorgeous! I just found your blog through the DOY BlogLovin' Tour and I am so happy I did. I am loving your art so much! (And I am in love with that quote too!) :)

Hester Claassen

• May 20, 2013 at 8:26:12 AM

I live in South Africa and wish we had someone like you here so I can learn from you. I love your work