Let's get creative! - art classes for kids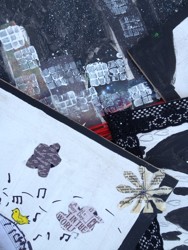 We are all born creative. Children use creativity when they play, write stories or make crafts, but also to solve everyday tasks and complex math problems. To be creative is to think outside the box to approach tasks and problems in a different and innovative way. It is one of the most important skills children need to succeed academically. Plenty of creative thinking will be needed in the world our children are facing.

To help our children stay creative we need to let them use their natural curiosity and be playful. We should let them make mistakes and be brave to try new things. We should encourage them to trust themselves and their intuition.

Art is one area where our children can apply these skills.
At the same time it is important that children feel that what they create has real value. Usually children's art does not get the respect it deserves and their creative process is often considered very messy.

In my art classes I encourage the kids to focus on the process, to be brave, to follow their own intuition and to have fun.

The kids are working hard for the upcoming art exhibition "Raging Redbows and Rainstrings" at Lightwave Gallery during the school holiday, 13th-28th of July. We are all very excited.

I am working together with another local art tutor, Joyce van der Lely (Young at ArT DownUnder Studio), as well as with Karen and Ken at the Lightwave Gallery in setting up this vibrant art exhibition. Art from more than 50 kids will be exhibited in the main gallery. Please keep posted on this very exciting event by signing up to my newsletter or by following the Facebook page of the "Raging Redbows and Redstrings".