Giveaway! The Art Bundle for Good
I am yet again part of the fantastic charity project The Art Bundle for Good, a fabulous project, hosted by John Bardos, where art and charity is bundled together!

What is the Art Bundle for Good and how does it work?
The Art Bundle for Good is a great opportunity to get 100 top art learning resources from many of the biggest names in the industry and do some good at the same time!

The art bundle is a fantastic bundle of e-courses and workbooks on topics like painting, drawing, watercolours, mixed media arts, digital illustration, creativity, marketing your art, and more. The bundle includes e-courses and e-books to the amazing value of $4000. It is bundled together to a fantastic deal and it will definitely take your art and creativity to a new level. You can see the full list of all the resources included in the bundle below.

The really really good thing is that 25% of the profits are going to support Courageous Kitchen, a Bangkok based charity helping refugees.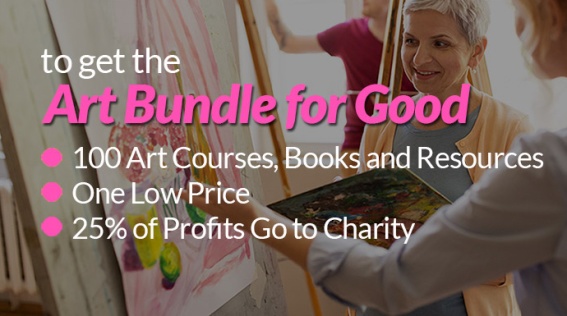 We will start the sales of the art bundle, November 8, BUT this year we will give away three bundles for FREE!!

Do you want a chance to win 100 art courses and e-books?
Three lucky winners will win the entire Art Bundle for Good?