We had our last creative Tuesday in my Studio this week. Angela is moving back to Hong Kong to further develop her art and craft. Hope to see more of her on the web:-) We have had great fun beeing creative togther.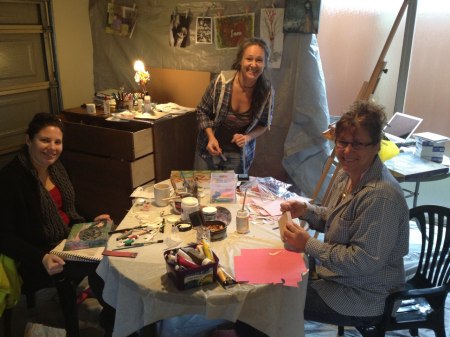 Angela, me in the middle and Sylvia on the right.
I was working on my painting "Love makes a house a home!"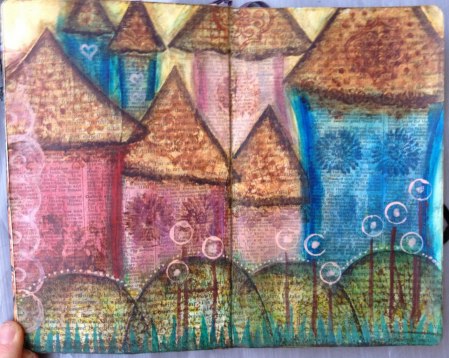 Läs hela inlägget »
One of my goals this year is to be more here and now... to be more mindful. Work-in-progress for sure. It is not easy but I remind myself several times a day to stop, relax and be happy in that moment.
I finished another face the other day and when I see her face I think she is mindful. She is neither sad nor happy, she is quite peaceful even though there seems to be a storm around her.
I love drawing these faces in my art journal. They do tell me a lot about myself and it is great fun... I did go a bit crazy with my new stamp set in her hair but it kind of works:-)
Läs hela inlägget »
I love the saying "The sky is the limit". There is no real limit, you only limit yourself. If you want something just go for it! It might take time and it might take a lot of hard work... eventually you will reach your goal BUT make sure you enjoy the process while going.
I started the journal page below while waiting for two friends that I paint together with. I drew the face in a text book, tore the page out, glued her into my journal. My friends arrived and we were working during the day painting canvas backgrounds and at the end of the day I had some scrap paper and paint left. When they left I continued on my journal page. I used the scrap paper and the left over paint but got stuck and did not know how to finish the page. The page was sitting for a day before I found the saying in my paper scrap box. Voila... that was the missing part for my journal page.
Läs hela inlägget »