I am in a real flow at the moment. I have heaps of paintings going on at the same time (as usual). I love it! Music is on high, moving from one canvas to the other, adding layers after layer. The studio is a mess! I am amazed that I can find what I am looking for while working... but I let the mess be a part of the creative process. Sometimes I pick up the "wrong" colour, splashes from one painting ends up on another canvas or I can't find what I am looking for so I grab something else instead. It is great fun to let that be a part of the process. It is amazing what appears when you let the painting develop kind of by itself...
I hope that I will be able to show some finished stuff soon.
Have a great day!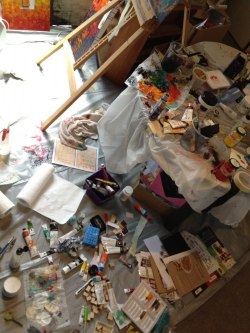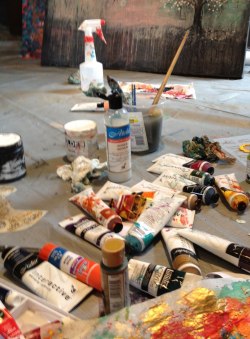 Läs hela inlägget »
I have been working on a couple of big canvases lately (I hope to finish them soon to show you)... but this morning I did not have any inspiration at all. I picked up my art journal and found my flow!!
It is amazing how changeing format or medium can kick of the inspiration. The girl is inspired by a doll that I found on the net a long time ago and she spoke to me, so I had to paint her:-) I started with gluing a paper bag into my journal. I love the texture that gives me. I then used graphite, color pencils, water soluble pencils, acrylics and inks. I love the result!
Läs hela inlägget »
I am now part of The Trodden Path artist community and my friend and teacher Joyce van der Lely is giving a way a FREE spot at her new Fresco Class. Click on the picture below and you can read all about how to be part of the draw. Make sure that you have a look around her blog while you are there. She dose some great stuff!
Läs hela inlägget »