One of the promps for The Fall Fearless and Fly #5 challenge was to create a journal page based on "What lessons I have learnt from people I admire".
One person that I really admire is Deepak Chopra. The below journal page includes some of his wisdom. The way he describes consciousness really fascinates me.
" The simplest definition of consciousness is awareness. The two are synonymous. Consciousness is the potential for all creation. The more consciousness you have the more potential you have to create."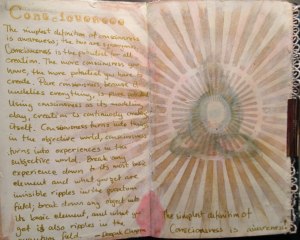 There are many famous people that I admire and that have taught me lessons... but I do have 3 people very close to me that I should listen to more and learn from. They still have a very uncomplicated relation and dialogue with their imagination and intuition and I want to encourage them to keep that!
Today me and my 6 year old daughter had a "Creative Wander". We packed our Art Journals, some coloured pencils and some watercolour. We wandered around the neighbourhood and stopped in different places to draw and paint in our journals. My daughter was leading us and I listened and followed her to inspire me. It is very exciting to let the kids lead and see what happens. I am not that good at it but I have decided that I will listen more and let their imagination and creativity teach me. I am really looking forward to our next Creative Wander!!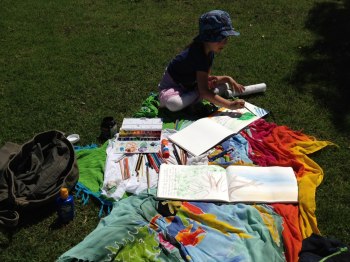 Läs hela inlägget »
Stunning weather, a lot of people browsing through and great fun to meet potential customers and discuss art:-) Meya (my 6 year old daughter) helped me from 7 o'clock in the morning to set up until closing in the afternoon. Great day!
Läs hela inlägget »