We are having beautiful summer weather in New Zealand. My parents are visiting from Sweden and it is great to have them around. They are so involved and committed to the kids and the kids just love them. I am trying to squeeze in as much art time as possible but find myself discussing life with mum over a cup of coffee instead. Feels like the right priority!
I have found a new place for my first painting 2013; "Someday". She is now hanging in the great little cafe Sunrise in down town Tauranga. It feels great to have my art hanging in public places where art is not the main focus. It just add to the impression!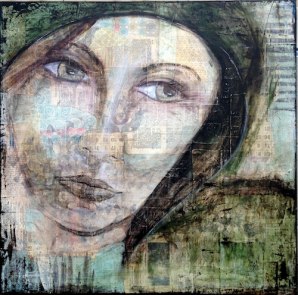 Läs hela inlägget »
I have had a couple of weeks of great flow! Here are my latest two paintings that I delivered to The Turner Gallery in Te Puna last week.
Did you know that recent research indicates that being creative and making things by hand improves mental health and makes us happy. We experience pleasure, pride and meaning through the creative process much more so than through simply buying what we need. Today we seldom satisfy our primal need to use our hands to create or repair things. We do not have the time to bake bread, build a chair or sew a skirt; or we are scared of even trying. We are either too busy or afraid of failing. We have too high expectations of what the result should be and therefore we lose the joy of the creative process. Research yet shows that when we make, mend or create things we feel vital and effective and that it is not the result that gives the joy it is the process! Too much focus on the result feeds frustration and unhappiness, we should experience and take pleasure from the journey.
So...
Be Brave!
Listen to your Intuition!
Let Go of your Inner Critic!
Enjoy the Journey!
Läs hela inlägget »