Yesterday was the opening night of the exhibition at the Refinery Gallery in Paeora. What an evening... heaps of people, stunning art, great nibbles, good wine and good music. I love this place! A huge open factory building with at least 7 meters to the ceiling with huge wooden beams. The open space is divided into a studio/workshop part, a cosy cafe with comfy couches and a great gallery space. Love it! ...and my art was just stunning on the white walls:-)

Thank you Dermot and Kane for a fabulous evening!
Läs hela inlägget »
In the end of last year I invited Tracy Verdugo to NZ to facilitate her popular Paint Mojo workshop here in Tauranga. She accepted and the planning started for May 2013. It seemed far away but time flies when you are having fun. After some searching I found a venue that was big enough for 15 people splashing paint around, I wrote an article in the local magazine Creativebeat and got a notice published in the local paper... the spots filled up and finally last Thursday I picked Tracy up at Tauranga airport.
Läs hela inlägget »
What great fun I have had painting this piece! The board started out as the display background at an art market that I attended in December. Then it was a place to get rid of left over paint. My daughter painted a layer and slowly, slowly the background was developing through many layers over several months. The face merged in the layers... just hidden behind the black hat... the hat slowly became more and more hidden again... I think I could have continued for ever... but I decided to showcase her in a local gallery and had to prepare her for that.
With parts of the following quote as the title she will be delivered to The Refinery Gallery in Paeroa on Sunday!
"The day I broke up with normal was the first day of my magical life"
by Jeremy Chin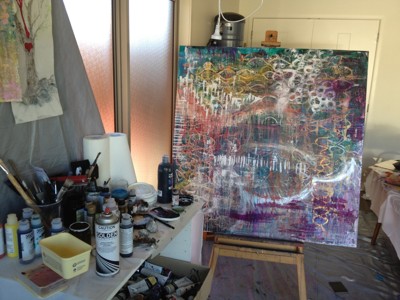 Läs hela inlägget »