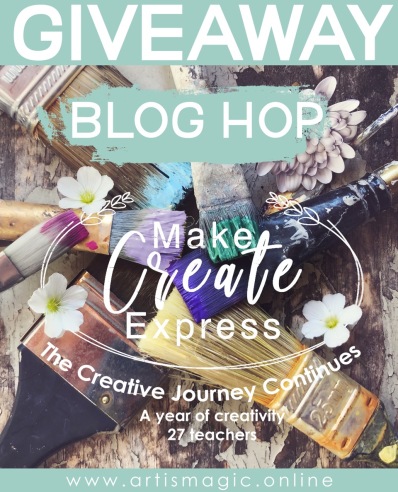 We are less than 2 weeks out from the
FREE
Make Create Express - Creative Weekend

Ignite your Creativity with this Free Creative Retreat Weekend.
☆ 27 artists share their magic from around the world.
☆ Learn new techniques & processes.
☆ Connect with your own creative spark.
☆ Make time for yourself & your creative expression.

To celebrate that there is less than 2 weeks left
I am giving away 1 spot for the full 1 year long
Make Create Express- The Creative Journey Continues
This is a year long workshop!!

--- Update! ---
The winner is: Christin Clausén

To Enter the give away:
1. Copy the URL for this post (https://www.flowbyjenny.com/2019/06/25/en/give-away-time!!!-42761916) and share it on your Facebook
2. be sure to tell me in the comments below that you have shared this post

I will announce the winner of the YEAR LONG ON-LINE CLASS on June 27

For extra entries:
• share this blog post on other social media places such as your blog, twitter, pinterest, google, or other social network platform & leave me a comment below describing where it is shared.
• Share and comment my Facebook post HERE

Good luck!!
...and don't forget to join us for the
Make Create Express- Online Creative Weekend Event
IT IS FREE!!!

To enter the rest of the give aways in the Blog hop
Join the daily giveaways by visiting the artist's blogs below on the day of their giveaway. Good luck to everyone!!

26th of June: Hali Karla, Fonda Clark Haight, Muriel Stegers
27th of June: Mariëlle Stolp, Kiala Givehand
28th of June: Connie Solera, Karine Bossé


Läs hela inlägget »