Hi all creative souls!

Now is the time!
Get creative and join us for a year of
art and wellbeing!!

Today the registration opens for
Life Book 2020
and you get 20% discount if you use the
coupon code: LOVEBOMB2020
I'm so excited to be part of this amazing year long course. I can't wait to share my lessons with you!
I will have two lessons during the year. My main lessons is "My Story in Flow"
In this lesson I will bring you on a journey. I will create my page in many layers, starting with collage. I will find the story that wants to be told by letting go and listening while painting. Ultimately, art journaling opens up the magic of what is unique within me!

I know that many of you already know what Life Book is all about, so if you can't wait to sign up, make sure to click here to get your seat
And do not forget to use the coupon code to get your 20% off early bird price!! LOVEBOMB2020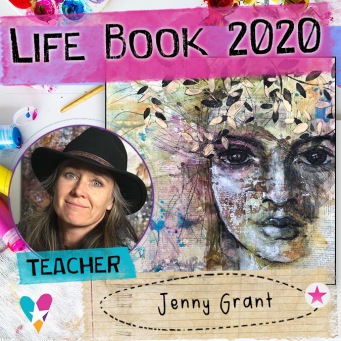 Life Book is a year-long mixed media art class organised by my dear friend Tamara Laporte from Willowing Arts.

Tam has gathered 30 incredible art teachers who are all gearing up to share their mixed media techniques with YOU. You'll be creating several loose mixed media art journal pages per month which by the end of the year you will bind into a glorious journal - a Life Book! You will also be introduced to yoga, mindfulness, nonviolent communication, body positive thinking and other wellness exercises to help support your personal development journey more holistically.

We will be a fantastic community of art lovers that are all doing this fabulous journey together (over 23,300+ people have joined Life Book during the years it has be running).



You get 85+ fabulous offerings throughout the year for ONLY £109 GBP (approx $130 USD)! The course/ content is valued at well over $3000+ USD - so you'd join it for only a fraction of the price!
Isn't that fantastic!!
Registration opens today and the class begins on January 1st 2020.
So if you want to start the year with a fabulous creative BANG and spend 2020 with a wonderful creative community of like-minded souls, be sure to join NOW by clicking here !

Sign Up to Life Book 2020 or Find out More Here!

I hope to see you will join us! :)
Love
Jenny
Läs hela inlägget »
I am so honoured being one of the teachers for next year's Life Book 2020.

Life Book is a yearlong creative adventure and we are kicking it off with this amazing FREE summit.

My friend Tam has interviewed 30 inspiring artists and wellbeing experts from around the world and I am one of them! We will all be teaching on Life Book 2020 and we have now lined up 30 FREE art and creativity activities/ sessions which will all be AVAILABLE FOR FREE during the summit.

Is that awesome or is this awesome!?

Of course we want you to play with us for the whole year
but make sure you join us at least for the free summit.

And please tell all your creative friends about this amazing opportunity!!
Läs hela inlägget »